Subcontracting Business Tips
The Office of Minority and Women's Business Enterprises is committed to increasing the contracting opportunities for Washington state certified businesses. Once you become a subcontractor, your success will depend largely on your ability to carry out your obligations in a manner consistent with accepted business practices.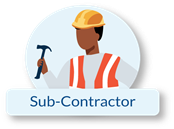 Before You Sign a Sub-Contract Agreement
Study the bid specifications and plans for the project. Make sure you know the scope of work.
Know the prime contract's provisions and requirements, such as the insurance provisions, prevailing wage rates, submission requirements and retention.
Ask about or visit the job or work site to become aware of conditions that may affect your bid price.
Ask the prime contractor for written clarification of any bid item(s) you do not understand.
Prepare accurate and detailed cost proposals or price quotes. The proposal submitted is the instrument intended to demonstrate to the General/Prime Contractor's with the subcontracting opportunity that you are technically qualified, understand the scope of work and can perform the work in a timely, cost-effective manner. If you initially offer a price by telephone, follow up by sending the General/Prime Contractor, written confirmation of the bid amount specified in our verbal quote.
During negotiations, document all conversations with the General/Prime Contractor. Be sure to note the time, date and name of the person with whom you spoke, as well as the nature of your discussion.
Notify OMWBE's Supplier Diversity department if your company is listed by a prime contractor as a diverse supplier without your knowledge or consent on a project.
Remember! Do not assume anything. When in doubt as to the meaning of any part of the procurement package, contact the issuing contract administrator that is representing the General/Prime Contractor.
Prepare your bid accurately. The General/Prime Contractor may not be able to grant relief if you make an error that is costly to you.
Write all technical and commercial terms and conditions. Bids which appear to be incomplete may be automatically rejected. 
Submit the bid on time. Bids submitted after the bid due date are generally rejected unless a written time extension has been granted to all applicable bidders by the
General/Prime Contractor prior to the bid opening. 
Before You Begin Work as a Subcontractor
1. Make sure you have a written (sub) contract agreement that includes the requirements, conditions and provisions of the job. Some items that should be addressed in the agreement include:
A detailed description of the scope of work to be performed by your company.
Read and be sure you understand all the terms and conditions of the (sub) contract.
Clear identification of responsibility for insurance, bonding and equipment requirements.
Identification of required certifications, permits, and prevailing wage requirements.
Discussion of how and when you will receive payment from the prime contractor, if any, for work performed and the amount you are to be paid.
Procedures for resolving conflicts and disagreements and handling additional work, change orders and modifications.
The recommendation that your attorney review any (sub) contracting agreements before you sign it.
2. Ask the prime contractor to provide you with the project schedule specifying when your company is to start work on the project as well as the duration of your participation. This will permit you to allocate sufficient time for details such as placing orders or supplies and arranging for the leasing of equipment.
As Work Progresses
Keep a daily log of all work-related activities performed by your company. Focus on site conditions, unforeseen changes, and oral directives from the General/Prime Contractor. Communications with the General/Prime Contractor should be in writing as much as possible.
Make sure that change orders affecting your (sub) contract amount and your scope of work are in writing. The written change order should contain a statement of cost and should be signed by you and the General/Prime Contractor.
Attempt to resolve problems and conflicts as they arise.
Subcontractor Close-Out
Project closeout is just as important for subcontractors because it's the final impression. The General/Prime Contractor will generally go through this step. Subcontractors must have all of their documentation in order since this is when all remaining costs and payments are due. By having all of your documentation, field notes, daily reports, change orders, and collected payments in order, it's easier to present a case for any outstanding payment.